Top Medigap Buying Mistakes
Medicare supplement plans can offer you excellent health coverage, but we see many people make costly mistakes when it comes to choosing their medigap plan.
Today I'm talking about some of the top mistakes people make when shopping for medicare supplement insurance, and how to avoid them.
The first mistake people make when buying a Medicare Supplement Plan is simply not doing their research. I always recommend that people explore all options, and look at your Medicare & You Guidebook – right there on page 79 you can find information about Medigap policies, including how to compare Medigap Plans. Before you talk to an agent or broker, or even call an insurance company direct it's important to have that base knowledge about Medicare and Medicare Supplement insurance and what it covers.
Another mistake people make is buying their plan directly from the insurance company. It can be very tempting to just call up the insurance carrier direct to buy your plan, but you are really doing yourself a disservice when you take that route. The reason being, as soon as you enroll direct with the carrier, you have just given up all of your choices and freedom. The insurance company has an internal sales department and they are more than happy to sell you a policy over the phone. Agent and broker commissions are automatically built into Medigap premiums, so there is never any additional cost to you to use a broker, and when you use an independent broker you are maintaining your freedom to shop other plans in the market. When you do receive rate increases, an independent broker will be able to let you know if there are new competitive prices for your plan in your area.
A third mistake is just enrolling with the cheapest possible company for your Medigap plan. Now, Medigap Plans are standardized, and the same exact plan can vary in cost depending on the company you go with. So while it is important to look at Plan Pricing when making your decision, you also want to look at the insurance company's financials, and what their rate increase history has been. Sometimes, the best company to go with will be the lowest priced in the market, but often for just a few dollars more you can find a stronger A rated company with better financials that will end up saving you money in the long term.
Additionally, I also want to warn against pushy sales tactics. Especially for folks T65, you're likely to receive lots of calls in the months before you turn 65. Some folks have told me they actually have thought about changing their phone number. These calls are often from big calls centers and with pushy sales people who are trying to get you to sign up right then and there, and then after that you never hear from them again. Remember that no one from 'Medicare' will actually be calling you and you don't need to enroll before you feel ready. If you're watching this video, you are already a step ahead of the game in doing your research. If you ever have any questions, or would like a free no obligation quote, please call me at 888-465-9728, or you can send me an email at stephanie@abtinsuranceagency.com – and I promise your information is always kept private and secure.
Latest Articles
CMS has released it's 2024 premium and deductible amounts.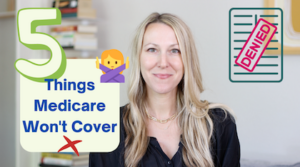 It can be pretty surprising to people to find out that certain routine things are not actually covered by Medicare.
How does your medicare coverage work when you travel? Medicare is accepted by over 90% of providers nationwide.