Mutual Of Omaha Medicare Supplement Plans | A Review
What is the Best Medicare Supplement Insurance company? Mutual of Omaha is definitely a popular contender in the market.
Mutual of Omaha is definitely a popular contender in the market – Mutual of Omaha has offered Medicare Supplement Insurance for many years. This company was formed back in 1909 and they were one of the very first carriers to offer Medigap Plans after Medicare was signed into law in 1965.
Financially, the company is very strong, holding an A+ rating with AM best. Insurance companies with this type of longevity and financial stability are generally very good choices when it comes to choose your Medicare Supplement carrier. Plan F, Plan G and Plan N are currently the most popular Mutual of Omaha Medicare Supplement Plans, and their pricing is very competitive in many areas. They offer up to a 12% household discount in many areas, and it some states that discount is applied for anyone who is currently married or living with an adult age 60 + (even if that spouse/person is not applying for Medigap coverage).
It's always a smart idea to shop plans and prices before choosing a Medicare Supplement Plan. Enrolling with an independent broker assures that you maintain your freedom as plans and prices potentially change down the road. Please call or email with questions! (888) 465-9728 or email stephanie@abtinsuranceagency.com.
Latest Articles
CMS has released it's 2024 premium and deductible amounts.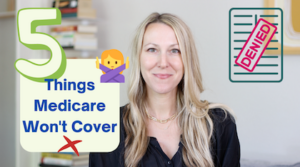 It can be pretty surprising to people to find out that certain routine things are not actually covered by Medicare.
How does your medicare coverage work when you travel? Medicare is accepted by over 90% of providers nationwide.